An interesting part of vibrator history is that they were often not manufactured nor marketed for masturbation. Many products used as sex toys were advertised as therapeutic massagers of the non-sexual kind. Household items sold with the word "vibrator" on the box were meant for relaxing muscles but often purchased as a "pervertable" (an everyday object used for sexual pleasure) rather than their original advertised use. Even the original Hitachi Magic Wand's public relations department argued for decades that it was just to massage the kinks out of your shoulders and back, and not for use on more intimate parts of the body.
When you're researching vintage vibrators, you usually find a parade of the usual suspects. In between the late Victorian hand crank massagers and the mid-century power tools, I found a couple that teetered on the sex toy edge. While I can't find proof that they were used for solo sexy time (then again we can't prove vibrators marketed for health care were all sex toys anyway) there's something about them that just screams pervertable to me.
Vibra Bed may not be a conventional vibrator but the image on the box of a woman enjoying her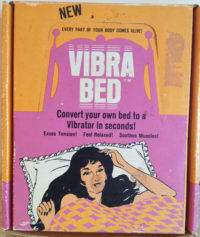 "relaxing" time in bed made me wonder about the Vibra Bed's intended use. I found two versions; the first has a late 60's illustration then another with an early 70's photo. In the box, you find a mid-sized square device you can attach to the bed to replicate those vibrating "magic finger" motel beds. Because everyone goes home from that no-tell motel going "Gosh I wish I had that vibrating bed action at home!" (Well, maybe a few did. Who am I to yuck somebody's yum)
Vibra Bed made its first appearance in 1970. The good and services part of the trademark document lists it as a "vibrator for attachment to a bed or sofa for causing vibration of parts of the human body." An ad in the Pittsburgh Press says it can be used with a sofa or chair. How well this small box works to make your entire bed, sofa, or chair into a vibrator is a question for the ages. Might be a nice full body massage after a long day or it could be about as effective as my cell phone going off repeatedly. Dynamic Classics Ltd., which went bankrupt in 1996 after losing a government lawsuit, had several items under trademark that were either fitness or travel oriented but nothing quite like Vibra Bed.
Another interesting find is the Filter Queen Vibrator by Health-Mor Inc. Filter Queen is known for its canister style vacuum cleaners. They carry a wide assortment of accessories including an attachment that turns your vacuum into a vibrator. The box shows how the hose vibrates and recommended use on various parts of the body. The attachment was invented by Eugene F. Martinec, vice president of manufacturing and inventor of many accessories for Health-Mor, and patented in 1962. At $14.50, this accessory is quite expensive, about $115 today. This price makes it more than twice the price of a Magic Wand and not as exciting. It looks like it came as part of an entire filter queen kit sold door to door, so may not have been purchased separately very often. Filter Queen is still in existence today, but no longer sells the attachment. Although an authorized dealer in Canada still offers the vibrator on their website.
An item that just screams sex toy to me is the Vibra-Finger gum massager. The vibrating end of this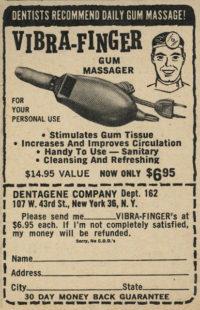 massager comes shaped like a rather realistic looking finger. Apparently, dentists highly recommended gum massage to combat Pyorrhea or soft irritated gums. It cost $6.95, had a 30-day money back guarantee, and a one year warranty. The instruction booklet recommends a 60-second massage after brushing your teeth and lets you know you can purchase replacement fingers for a $1 each. I'm not sure why these fingers had to look so disturbingly life-like, it doesn't seem necessary to perform the cleansing and refreshing massage
Vibra-Finger advertised in several newspapers from what looks to be the 1950s. I couldn't find any information about either the Dentagene Company or Atlas Industries, both listed as the parent company on the ads. Nor could I find a patent for it. When it was invented and first distributed, is a mystery.
I was surprised to find all of these items for sale on eBay, Etsy and online stores specializing in collectibles. Their distributors may be long gone, but the product is still lingering about.