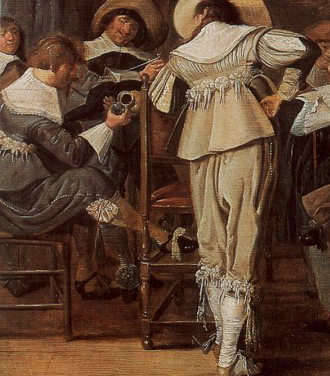 Some time ago my kids and I were visiting a park where the peafowl ran free. I say peafowl because peacocks are only the males of the species; peahens are the females. It was spring so many brilliantly trained peacocks seemed to be everywhere that day, ready to impress. They strutted around with tails fanned out, giving them a shivering shake every now and then, as the smaller neutral feathered peahens seemed to be going about their business nonplussed. Several moms were standing with us in an open field watching nature's show when I noticed some mom's referring to the peacocks as "she" and "her." It seemed they thought the courting male fowl to be female.
It's always frustrating for me when I hear parents give their children misinformation instead of just saying, "I don't know" then seeking out the right info. Dare I say something and correct these women in front of their children?
I couldn't help myself. I had to. For science.
When I pointed out the fanciful birds were indeed male, they were surprised. It was strange to them that the female would be dull colored and the male so extravagantly plumaged. Because I couldn't shut my mouth at that point, I also pointed out that pretty much the entire animal kingdom is set up that way. I eventually wound up explaining that males are colorful to help attract a mate and females are camouflaged to protect them, important vessels of procreation as they are, from predators. What I didn't get to is that men have also been peacocks in our past, we just don't remember. I'm not just talking about the swinging 60's, the glam 80's or even the metrosexual new millennium. Men centuries ago have had periods where they rocked wigs, highish heels, makeup, and fanciful dress. These were mostly affluent nobles but a rising merchant class meant the middle-income crowd could also indulge in fanciful fashion.
For most of ancient times, men and women dressed pretty much the same. In the 15th and 16th century, dress in the upper class becomes more elaborate. By the Tudor and Elizabethan time period men are slashed, puffed, sporting thigh high pumpkin hose and stockings. Then the 17th century arrived. Noblemen and aristocrats begin a journey into ostentatious display the likes of which we have rarely seen. The elaborate jewel pearl encrusted Elizabethan era becomes the sumptuous fabrics and ornate lace collars of the Jacobean era. Men are all about the ruff but not in the curled shaped upright ruff, instead, it's wide, flat and made with exquisitely edged lace. There are even fancy lace cuffs appearing at the sleeves. The leg coverings saw short breeches descend from their height at the thigh, to knee length and full, then relaxing to a more natural form. Sashes and fancy garter ties are now all the rage. The heeled shoe makes its appearance, as does the high-topped boot that soars to such height it become fashionable to have them hang and sag around your calves.
As we head into the 17th and 18th centuries, men are wigged out, wearing makeup, high-heeled, and looking fabulous. Early 17th century Jacobean moves to the jaunty mid-century Cavalier, made popular by the Three Musketeers movies. Cavalier brings long curled locks, fancy long poufy sleeve peeking out from the end of coat sleeves, longer more elaborate coats, ribbon loops, the birth of the cravat and Jabot as neckwear, and petticoat breeches which were so wide they often looked like short skirts.
It culminates with the Restoration era where long curly locks are replaced by bigger long curly wigs, garter ties with bows become festooned with ribbon loops, jackets bloom with more ribbon loops, hats grow wider brims and longer feathers, shoes are heeled with fancily decorated as are the ever widening cuffs. Makeup becomes popular, mostly to hide scars due to smallpox along with the use of beauty patches that also help to cover scars. If you've ever seen The British Fops Lucien Callow and Fagan on Saturday Night Live, this is what they were making fun of. The Restoration era is the Fops heyday.
Dandy fashions continue into the rococo period to the early 18th century, but with fewer ribbon loops. The last stand of men's fashionable extravagance, at least until the 1960s, would be the "macaroni" of the mid 18th century. Trendy men's court fashion becomes its most metrosexual until it calms down to a more sedate dandyism spearheaded by Beau Brummel. Men's fashion would become increasingly dull and drab as attitudes towards masculine dress become more rigid in the 19th and 20th centuries.
It's interesting to note that the times that men are letting their peacock flags fly, are when sexual mores are more relaxed. The renaissance saw an increased acceptance of sex for pleasure, although usually within the confines of marriage. While cheating had to be kept on the down low, mistresses and boys on the side start to become more apparent in the literature of the time. The 17th and 18th centuries find the aristocracy enjoying what seems like a great deal of sexual freedom. Men marry to procreate and pass their fortunes and titles onto their progeny while pursuing mistresses and courtesans for pleasure. There is a sense that men flirted more and sex was more acceptable.
The 18th century is a time where a more modern attitude towards sex takes root. When sex gets tightly buttoned up in the Victorian and Edwardian eras (19th to early 20th century) men's dress becomes less ornate. During the sexual revolution of the 60s, we see the return of the dandy and a blurring of the gender lines in fashion. It makes me wonder if the absence of the metrosexual in preference for the more conservatively adorned hipsters has something to do with the current clash of sexual identity. Only time with tell. I'm hoping the peacocks return to parade and shake their stuff again.