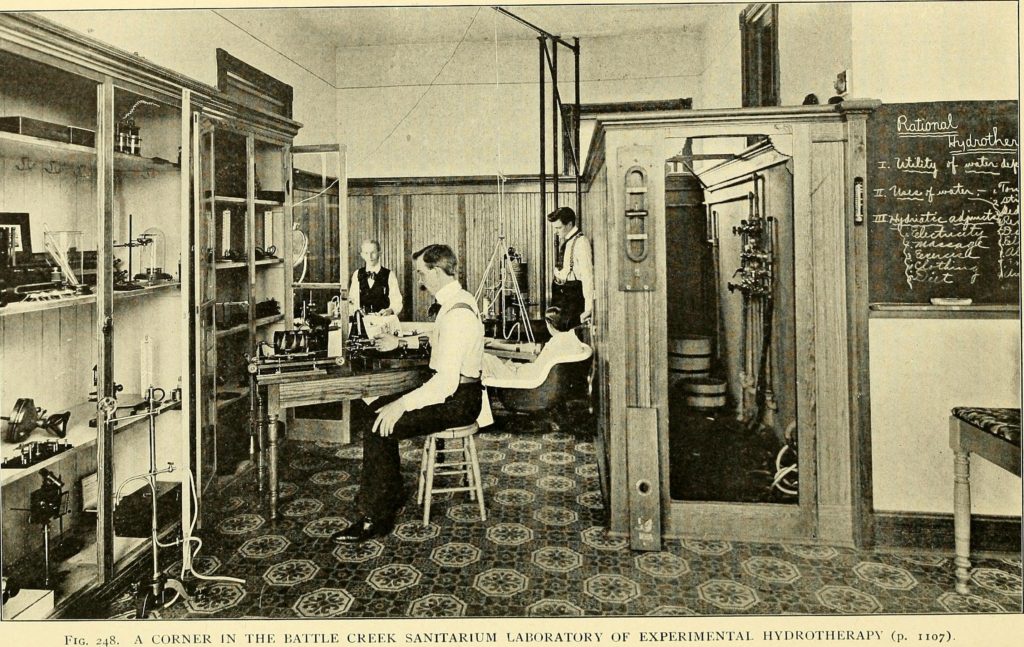 Graham crackers and corn flakes have such a ubiquitous presence in our lives. As a girl scout, I have fond memories of graham crackers oozing gooey marshmallows and melted chocolate. I also loved the cinnamon sugar covered ones. When I had my kids, it seems like all moms carried those wax rectangles of graham crackers from the moment our kids could handle solid food. I have a not so fond memory of cold cracker mush all over my kid's mouth and hands, and inevitably on my shirt. I've also been a fan of corn flakes, although I preferred them with sugar heavily sprinkled on top. Few are unfamiliar with the large white box with the big rooster on it.
I knew that Kellogg was into an unconventional dietary routine (I saw The Road to Wellville) but knew little about Graham. I was surprised to find out fairly recently that they both shared the same idea that spurred the creation of these staples. Simply put, anti-masturbation. Both Graham and Kellogg felt that people's diet contributed to their sexual urges. Deviant sexual urges like masturbation. First Graham then Kellogg, inspired by Grahams beliefs, wrote prodigiously about the evils of self-abuse and that diet could curb sexual arousal. They were both practitioners of vegetarianism. They both advocated a simple bland diet and abstinence from tobacco and alcohol. Kellogg condemned the consumption of meat, Graham the consumption of white bread. Some of this actually sounds tremendously modern, except for their fervent belief that masturbation was terrible for your health.
Sylvester Graham, a former Presbyterian minister, spent most of his life writing, lecturing, and developing lifestyle and diet plans. Having gotten on the temperance bandwagon during his minister days in the 1830's, he continued to preach as a lecturer. Temperance groups at this time focus mostly on alcohol and tobacco. Graham felt that sexual excess, including masturbation, was contributing to ill health, both mentally and physically. He also believed that the refined carb and fatty meat-laden American diet of the early 19th century was terrible for your health. He wanted to get people back to their living off the land roots. He felt that the manufactured food of the time had gotten people away from the wholesome tables of yesteryear. It was true that at the time people were consuming processed white bread like never before. This bread often had added ingredients like alum and chlorine to make them more white and last longer. Refined white bread had become a symbol of upward mobility to middle-class society, a status symbol since it was purchased and not made at home. Graham was convinced that these chemical additives made bread unwholesome. He also believed a vegetarian diet could cure people of alcoholism as well as rid them of sexual desires.
Graham lectured often about how this unhealthy diet increased our sexual desires, which lead to our overall ill heath including mental feebleness and insanity. He believed that "venereal excess" should be avoided, not only masturbation and premarital sex but also only engaging in marital coitus once a month. He created a super bland diet that did away with any stimulants like coffee, tea, and seasonings. It was focused on whole grains with fresh fruit and vegetables plus a recommended regimen of exercise, frequent bathing, and fresh air. You weren't even allowed to use pepper, a point of contention when Oberlin College made the Graham diet part of its dining plan. A professor there was let go for spicing up his food with some pepper. The diet plan was gone soon afterward.
Graham didn't create the graham cracker as we know it today. He invented his "Graham flour," which consisted of specially ground whole-wheat flour where the bran and the germ are ground and combined. This he used to make Graham bread and by 1829 a Graham flour based cracker. He had quite a following, at first, attracting a fan base that was referred to as "Grahamites" who practiced temperance, abstinence from alcohol, and who adopted his rigorous diet and lifestyle plan. He was also ridiculed and threatened with bodily harm, mostly from bakers and butchers who were not happy with his ideas about purchased bread and a meatless diet. At one point there were even boarding houses of "Grahamites" but as Graham's own ideas became more radical and vocal, and geared more towards abstinence than temperance, his follower lost interest and dispersed. But some carried on his ideals, one such person was John Harvey Kellogg
JH Kellogg took many of these ideas (vegetarianism, whole grains, exercise, fresh air, temperance, and abstinence) and applied it to the regiment at the Battle Creek Sanitarium as a way to gain a longer and healthier life. He was the chief medical officer of the sanitarium while his brother Will was the bookkeeper. He one-upped this with some interesting ideas about enemas, basically water followed by yogurt enemas. He also ascribed to the idea of using bland foods to curb sexual desires. Together with his brother they created a bland yet crunchy corn flake cereal in 1878 that would live on for years under the ubiquitous name of Corn Flakes. JH's brother wanted to add sugar to better market the cereal but his brother was too busy trying to fight against the depleting effects of masturbation and sexual excess to see the business opportunity here. It's also rumored that C.W. Post was a guest at the sanitarium and stole the recipe idea for the corn flake then went on to create the Post cereal empire. Will Kellogg would eventually go off on his own and create a company that would later be known at the Kellogg Company we know today. He and his brothers fought about it for years.
Kellogg was an even stronger advocate against masturbation and sexual excess than Graham. He not only believed that a diet and lifestyle stripped of stimulants would lower the desire to self-pollute, he also advocated things like special circumcisions and surgeries to prevent masturbation. He's been quoted to recommend sewing a silver suture into the foreskin to prevent it from pulling back from the glans thus preventing erections. He also suggested using phenol, an acid, to curb the use to self-pleasure. He recommended everything from cages, administering blisters on genitalia and electric shock. This man would stop at nothing to stop you from rubbing one out. He was adamant in his cause because like Graham he believed that self-abuse, or venereal excess, as Graham called it, would lead to disease and insanity.
Kellogg's cereal is slightly different today than in the early days. JH's plain flakes of corn now have some sugar, malt, high fructose corn syrup and other ingredients. The company also makes sugar-laden cereals like Froot Loops and Cocoa Krispies. Graham's crackers changed a lot after the company changed hands. The crackers are now made with white flour and contain sugar. I was quite fond of the cinnamon sugar covered ones when I was a kid. Reverend Graham would be horrified to see what is now considered a graham cracker, especially when marshmallows and chocolate bars are sandwiched between them. You can find healthier options made of whole grain with low or no sugar at health food stores but what you find in a grocery story is not the tool against onanism from back in the day. We've also thankfully learned that masturbation is healthy and can help with many of the ailments it was once blamed for.